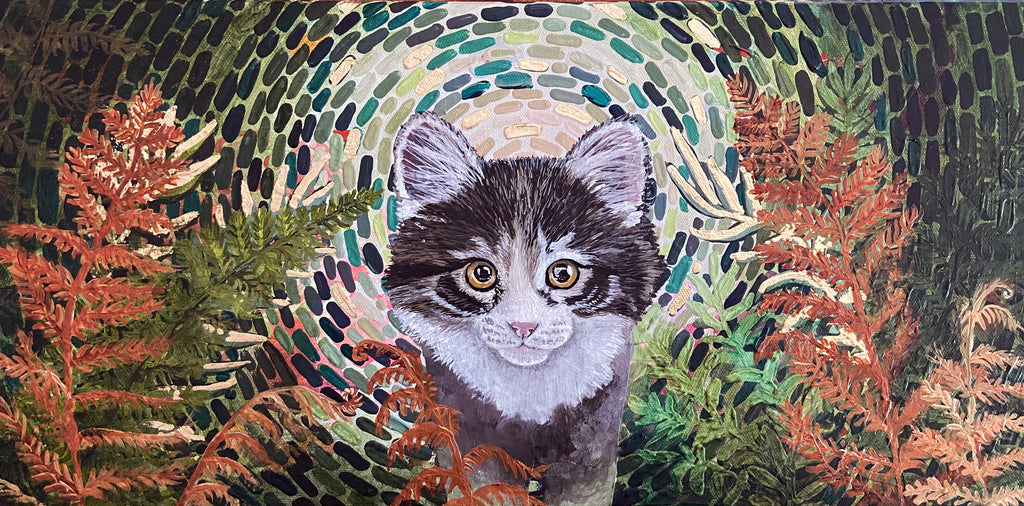 Stephen Lursen Art
Ancient Adventure
Ancient Adventure is a work of art with multiple points of inspiration. Firstly, this work adds to my cat collection made for my daughter Leiana, who, if given the chance would own all the cute cats in the world. Sadly, I am allergic, so her likelihood of owning a kitty is very low until she grows up. So from a position of love, I paint paintings that hopefully make her gasp with awe and love for the cats within. This one achieved that.
If you are a cat lover, hopefully you'll appreciate this one as I continue to make more and more. In the mean time, this painting is lovingly cared for on the wall of Leiana's room. :)
It is 10"x20" acrylic on canvas with gold leaf. Made in 2022. Canvas is painted on the sides and is .75" deep.
The background has a painted mosaic texture and the left and right foreground spill out with autumn ferns. I planted a couple in my back yard this past spring and their new growth grows in copper and turns green as it matures. This creates a beautiful diversity of colors and values within a single plant.
---
Share this Product
---
More from this collection